Are you battling to find the best vacuum cleaner for your needs? This guide helps you choose the optimal vacuum cleaner for your home.
If you or someone in your home suffers from allergies or asthma

The indoor air can cause a lot of problems if you suffer from asthma or allergy symtoms. Make sure the vacuum cleaner you choose is efficient, is air-tight so particles doesn't escape it, and has a HEPA filter (High Efficiency Particulate Air). HEPA-filters trap fine particles that trigger allergy and asthma symptoms, like pollen and dust mite faeces.

Make sure you choose a vacuum cleaner with a good HEPA filter! The higher the HEPA filter grading, the higher the filtration. A HEPA 10 filter, for example, screens out 85% of the airborne particles measuring 0.05 to 0.15 micrometers in diameter, while a HEPA 12 filter screens out 99.5%. A HEPA 13 eliminates 99.95 % of these particles. Larger particles are filtered out to an even higher degree.

Another good idea for improved indoor air quality is an air cleaner. It filters out pollen, mould, pollution from traffic, allergens from pets and dust mites, and tobacco smoke. An air cleaner with a noise level as low as 27 dB(A) means you can place it in the bedroom and it can run without disturbing your sleep.

Choose an efficient vacuum cleaner equipped with HEPA 12 or HEPA 13 filter, to make sure you get rid of allergens in the air.
You can look at the Pure C9 or the UltimateHome 900.
Vacuum once a week? Vacuum a little every now and then?

The traditional way to clean is to vacuum the entire home once a week. For this, the regular vacuum cleaners are perfect – they offer plenty of cleaning power thanks to powerful suction and efficient nozzles.

A smart way to keep the home tidy is "instant cleaning" – to vacuum when it's needed, where it's needed. For this purpose, cordless vacuum cleaners are perfect. They are made to always be at hand, with a neat design so you don't have to hide the vacuum cleaner away in a cupboard. The Electrolux ErgoRapido is a stunning design icon that is perfect for this role.

So, once a week with a regular vacuum cleaner, or a little when needed? Many people do both. Choose the type of vacuum cleaner that fits your way of cleaning best. Why not both of them?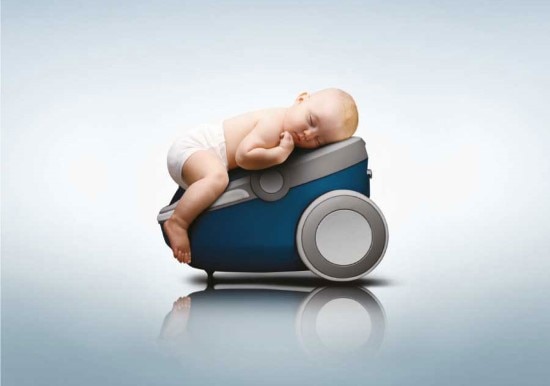 If peace and quiet is important

With a quiet vacuum cleaner you can vacuum whenever you want, without disturbing family members, neighbours or yourself. The really quiet ones are compatible with your home life – they not only allow you to vacuum without disturbing others, they even allow you to listen to music or talk on the phone while vacuuming.

Look closely at the decibel figures – 3 decibels less means that the noise is reduced by half! The noise level of a standard vacuum cleaner is around 78 decibel(A), while the most quiet vacuum cleaner on the market is only 68 decibel(A) – a noise level equivalent to an ordinary conversation. The noise levels of Electrolux vacuum cleaners are measured according to an international standard.

Choose a vacuum cleaner with a noise level of 72 dB(A) or less.

Suggestions: Check out the SilentPerformer. Beautiful, silent and environmentally friendly too.


If you have a large home

Some Electrolux vacuum cleaners have an extra long cord, so you don't have to stop and change socket as often – handy if you have a large home. If the size of your home demands a lot of vacuuming, choose a vacuum cleaner with good dust pick-up – that makes vacuuming more efficient and easier. Also, if you vacuum a lot, it's extra important to choose a vacuum that's easy to manoeuvre and has ergonomic features. An ergonomic handle combined with a manoeuvrable nozzle, for example, ease the strain on your wrist.

Choose a vacuum cleaner that's ergonomic, easy to manoeuvre and has a long cord or a cordless model that you can take whereever you want to clean.


If you have a compact home

Consider the storage area you have available and look for a compact vacuum cleaner that fits in. An advantage is the possibility to secure the hose around the vacuum cleaner, which saves storage space. Also look at the number and position of the parking clips that holds the nozzle to the vacuum cleaner, they make storage easier. An interesting alternative may be a corded stick vacuum cleaner. Its slim design makes it easy to stow away, for example behind a door.

If your storage possibilities are very limited, there's the opportunity to choose a vacuum cleaner with a design that's so attractive you'll be happy to leave it out in the open.

Choose a compact vacuum cleaner that's easy to handle and store.

Different types of floor

Getting the best cleaning performance on different types of floor is all down to the nozzle. If you have carpeted areas, a motorized nozzle with a rotating brush is best, as it agitates the carpet pile and helps loosen dust and dirt. Hard floor nozzles with soft brushes are ideal for wooden and tiled floors, it's efficient yet easy on the floor to prevent scuff marks.

The combination or "regular" nozzles have settings for both carpet and hard floor.

Choose a vacuum cleaner with a nozzle that suits the types of floor in your home. If needed, combine with another nozzle.
We have a wide range of Canister vacuum cleaners that could accomodate cleaning of different surfaces.
If you have pets

Hair from pets can be extremely hard to get rid of, especially from fabrics like carpets and upholstery. A vacuum cleaner with a motorized nozzle is the best choice for picking up embedded hair, and is also ideal for deep down carpet cleaning and grooming. An air driven turbo nozzle works in the same way, but is dependent on airflow, it is somewhat noisier, and can't be switched off without having to change nozzle. A mini turbo brush is handy and efficient for cleaning upholstery.


Choose a vacuum cleaner with a motorized or air driven turbo nozzle, and a mini turbo brush.

Models such as the UltimateHome 700 includes an animal kit in the box.


*Disclaimer: Pictures are for illustration purpose only and not necessarily the products that are sold.